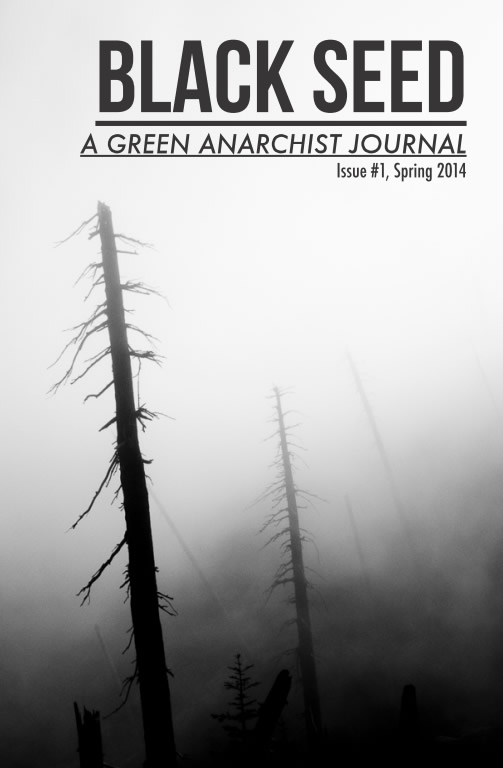 Black Seed green anarchy is coming to your town.
Itinerary so far (email us if you'd like us to stop by)
May 4th – Milwaukee WI – Center Street Free Space
May 5th-7th – Western MI
May 9th-10th – 1st annual Cleveland Anarchist Bookfair
May 11th – The Big Idea in Pittsburgh PA
May 12th – Flying Squirrel – Rochester NY –
May 15th – Burning Books in Buffalo NY
May 17th – NYC Anarchist Bookfair
May 18th – Wooden Shoe Books in Philadelphia PA
May 19th – Spore Infoshop – Columbus OH
May 21st – Boxcar Books – Bloomington IN (?)
May 23rd – Denver CO
If you have an interest in these ideas or seeing the books we will be bringing with us from Little Black Cart then come on down and join us for presentation and conversation.
Black Seed is a new, trans-continental, green publication. Its emphasis is on developing a conversation informed by, but critical of, Earth First!, Deep Green Resistance, and Green Anarchy magazine.
Why are we interested in conversation when the world is in such need? Exactly because things are so desperate we believe that face-to-face, personal, and close conversation is needed. The firebrands who have come before, especially in the context of the North American environmental movement, have demonstrated the limitations of crisis thinking. The horrorshow of the petro-economy; of valuing consumer devices over life; and of our utter forgetfulness about the world around us and where we have come from, has to be confronted person-to-person. Another mass culture solution will be absorbed faster than you can say Earth Day.
This discussion will be presenting and fleshing out the editorial of our first issue, discussing the questions of appropriate roles for Anthropology, Spirituality, Rewilding, and what it means to have a respectful outsider relationship to Indigenous communities, culture, and lifeways.
Join us in conversation about our publication and the green power of face-to-face discussion about changing the world.
Contact us via email
Or mail at us at
PO Box 68271
Grand Rapids, MI 49501
website: blackseed @ anarchyplanet