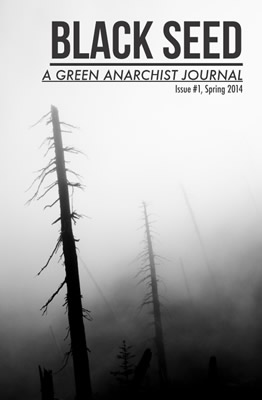 Black Seed #1 is heading to the printer this week. Black Seed is an anarchist paper in the tradition of Green Anarchy magazine (RIP) that will state, by essay, image, story, and poetry, perspectives of a green anarchist perspective. In our first issue we have short stories, interviews, and essays by John Zerzan and many others. Black Seed is a 32 page newspaper format biannual publication and we hope you are as excited about the results of as we are.
In celebration of our first issues publication we are going to take Black Seed on the road with free copies and a presentation on the possible intersections between anarchism, decolonization, and indigeneity. This tour will begin in the Bay Area on May 1st, pass through NYC for the anarchist bookfair on the 17th, and then head back to the West Coast. Please contact us if you'd like a visit and are somewhere in the area of Denver CO, Des Moines, IA, Chicago IL, Detroit MI, Pittsburgh or Philadelphia PA, or Upstate NY.
We look forward to meeting you.
-The Black Seed Collective
(Pre)order copies at Little Black Cart
Mail us at PO Box 68271 Grand Rapids, MI 49516
Email us at blackseed@anarchyplanet.org
Website: https://blackseed.anarchyplanet.org/